THE iDOLM@STER Live For You! is a live video game released on February 22nd 2008 in Japan for the Xbox 360. In this game, due sudden to the normal Producer, the player is gave the role as Special Producer and has to work for a section of 11 pop idols on their way to stardom. In Nintendo Wi-Fi, battle your friends and sing your fave iDOLM@STER songs.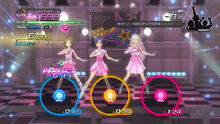 Ad blocker interference detected!
Wikia is a free-to-use site that makes money from advertising. We have a modified experience for viewers using ad blockers

Wikia is not accessible if you've made further modifications. Remove the custom ad blocker rule(s) and the page will load as expected.